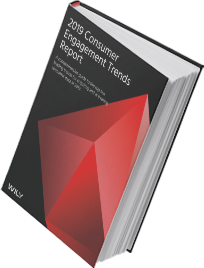 SPRY eBook
Consumer Engagement Trends Report
Today, the conversation most marketers are having is around personalization. According to reports by CMO.com, marketing is still at "a very basic level of personalization," but strategies mature as companies begin connecting data and content to deliver on the notion of one-to-one marketing.
This report will assist brand marketers and agencies in their quest to engage consumers in the digital-first era. It will outline the emerging trends and technologies that marketers will lean towards to gather important consumer data to personalize communications across various touch-points along the customer journey.
What's Inside:
✓ The Value of Data-Driven Creatives
✓ 5G and Mobile First Marketing
✓ Leveraging the Internet of Things (IoT)
✓ Plus, so much more!
SPRY is used by the world's most trusted brands